Project Summary
We believe the current way housing is built is not designed to meet the challenges of tomorrow for our communities. We believe connection with each other and our environment is the way forward to live lightly on the earth and future housing should account for these needs.
Our society is designing and creating resilient community in concert with nature, for this generation and the next.
Resilience to us, is to provide ongoing resources to work and share, bond with your neighbours and lessen ongoing expenses for living.
Food security and natural defenses from extreme weather are important tools integrated into our community's design to be resilient now and for future generations.
IMPORTANT NOTE:
CURRENTLY, WE ARE ONLY IN THE EARLY STAGES OF THE PROJECT AND THERE IS NO GUARANTEE THAT THE PROJECT WILL EVEN GET TO THE NEXT STAGE IN DEVELOPMENT OR GO FORWARD IN ANY WAY BEYOND THE SOCIETY'S FEASIBILITY AND PLANNING STAGE.
Please see the About Us page for current information on our project's status.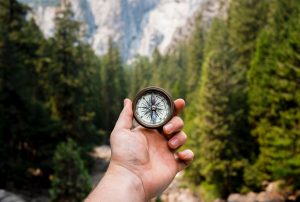 Core Group Goals
Establish the core group.
Identify our key allies and build crucial networks
Raise awareness in the general public.
Attract and engage professionals to help with issues that are outside our skill sets.
Create a development company or appropriate legal structure to carry out the project.
Provide information and guidance on founding other ACE Values Communities.
Community Goals
Build community resilience
Connect with our environment
Encourage community interaction.
Reduced energy consumption and carbon footprint.
Create "Live More With Less" atmosphere.
Reduce dependence on personal transportation.
Address affordability issues.
Utilize community based governance structures.
Be an example for other communities.
Community Structure Concept
RESIDENTIAL

Small Homes on foundations in appropriate housing forms

Build for aging-in-place and inclusiveness

Green building services and green energy services for a low environmental footprint

AGRICULTURAL

Greenhouse and/or Community garden

Agricultural component based on regenerative agriculture practices

Food forest

COMMERCIAL

Retail space

Mobile ADU/Tiny House Hotel

Mobile ADU construction
Possible Shared amenities
In 2021 we did a survey of our members and subscribers to find out what amenities would be most important to them to build into our community. Here are the answers our group gave at this time from most important to least important.
At a later stage in the project, as we solidify the design for our site, we will revisit our planned amenities.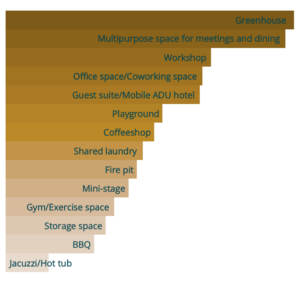 Would you like to know more?